Fleet managers have a lot to consider when the time comes to review and update their service vehicle fleet. What type of vehicle should it be? Can it handle the conditions we use it in? Will it be able to be customised to suit our requirements and easy to obtain? Will it be safe enough, economic enough and compliant enough for my business and my legal requirements?
With Bull Motor Bodies, the answer is a resounding yes. Our fleet solutions are designed for peace of mind across the board when it comes to business vehicle management.
Customised fleets
In the design phase, you'll be able to build a fully customised fleet that meets your every need – a fleet that is truly 'fit-for-purpose', in every sense of the word. We review everything that goes into building a light vehicle, which includes:
Configuration – what are the core requirements for each and every vehicle in the fleet
External fit-out – roof racks, water tanks, underbody storage etc
Internal fit-out – shelving, drawers, work stations etc
Body design – full length canopy, tray space or simple tradesman boxes?
Electrical accessories – emergency lighting, secondary batteries, charging stations etc
Vehicle features – GVM compliance, bull bars, long range tanks etc
We'll help you tick all the boxes when it comes to budget, ergonomics, safety, functionality, accessibility, compatibility and compliance. We will create fit for purpose solutions using state-of-the-art 3D design software and ensure we leave each and every vehicle in the fleet with enough payload to meet the requirements of the vehicle. Our solutions are proven to handle the tough conditions around Australia and are completely water and dust proof, giving you piece of mind that a Bull fleet is one you can rely on.
Compliance
At Bull, we've spent decades perfecting our software, manufacturing and management process to deliver a turnkey fleet solution unmatched for value, consistency or efficiency anywhere in Australia. That also means we know compliance inside and out. 
In accordance with best industry practice and with a corporate duty of care, we ensure that each vehicle fitted with a Bull fleet solution is supplied with a comprehensive vehicle weight report. Our extensive range of vehicle accessories are also only sourced from recognised industry leaders within the automotive sector, ensuring vehicles are always built to the correct standard at all times. 
Canopy Transfer Service
Did you know almost any chassis-mounted fleet product can be transferred to a brand new vehicle? From, tray systems to full canopies, everything we make at Bull Motor Bodies is designed to have several lives. That way, the initial investment keeps paying off, life after life. 
There are so many reasons to make use of this option as a Fleet Manager – the key one being that there is plenty of useful life left in the canopy asset that has usually been amortised on the first vehicle.
Fleet vehicle accessories
Bull Motor Bodies offers a broad range of vehicle accessories to further modify and enhance your custom fleet experience. From GVM upgrades, Bull bars, window tint, tow bars to long-range fuel tanks – the Bull has everything you need. This gives you one point of contact throughout the build process and ensures all warranty and after sales support is handled by us

We're ready with world-class design
Specialised design software, standardised manufacturing and a match-up with professional, expert designers means consistency, every time.

We're ready with incredible value
From manufacturing efficiencies to partnerships with the best suppliers, our one-stop-shop solution makes your job easier and your field team more productive.

We're ready with unbeatable quality
By using quality raw materials and manufacturing in Australia, a Bull product is proven to resist water and dust even in the toughest Australian conditions.

We're ready with superior service
From clearly defined timelines we never miss, to having one number to call for any variations, we've built our business on building long-standing partnerships.
A fleet consultant from Bull will head out to your site to chat about what you're looking for. After that, we'll get started designing your fleet – with plenty of input from you on your customisation needs. We go through a review process and make sure everything's perfect, and once you're happy, we start manufacturing!
What makes Bull different, is we don't stop there! Our fleet team will review vehicle performance and operator productivity once the vehicles are in operation – we develop long standing relationships with all of our fleet clientele and look to continually improve on our fleet solutions.
So give us a call today – you'll have your hands on a top-tier, best-in-class Aussie-made fleet in no time.
TO FIND OUT MORE ABOUT OUR FLEET SOLUTIONS, READ OUR LATEST CASE STUDIES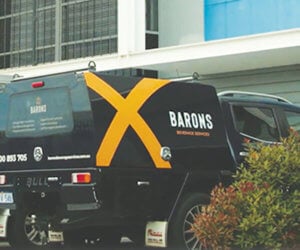 Building a true fit-for-purpose fleet with Barons Beverage Services
View Case Study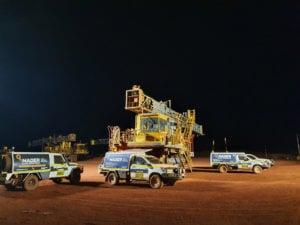 CHOOSE BULL FOR YOUR BUILD & WE GUARANTEE