What Makes Bull Different?
No matter whether you are sorting out a fleet, fitting your trade vehicle to get the job done or setting your rig up for an adventure - you'll be ready with Bull.
With a product range from a basic flat tray to fully enclosed canopies, we have the range to suit all conditions, all vehicles and all tasks!
We utilise a clever mix of modern technology, premium aluminium and automotive plastics to create a range of lightweight, strong and stylish chassis mounted modules to suit all light utilities on the market.
All products are fitted with a unique universal mounting system allowing end-users to interchange their ute body from one chassis to another, regardless of make or model.
Combine this with the highest grades of Australian materials that go into every product and your Bull product will last a lifetime. Plus, with full-length opening doors, internal seals and gutter systems, our canopies are guaranteed to be water and dust-proof.
"We use the
highest grades

of Australian materials."
Our comprehensive range of internal, external, electrical and vehicle options means you can customise your Bull products and vehicle to suit your unique needs.
Options include shelving, drawer units, drop-down vices, roof racks, workbenches, central locking, water tanks, Bull bars, suspension, tow bars and even sign writing – but we don't shy away from a challenge, so get in touch if you have something specific in mind.
Combine all of this with the vast industry experience of our sales team and we're confident that we'll build the right product for you, on time, every time.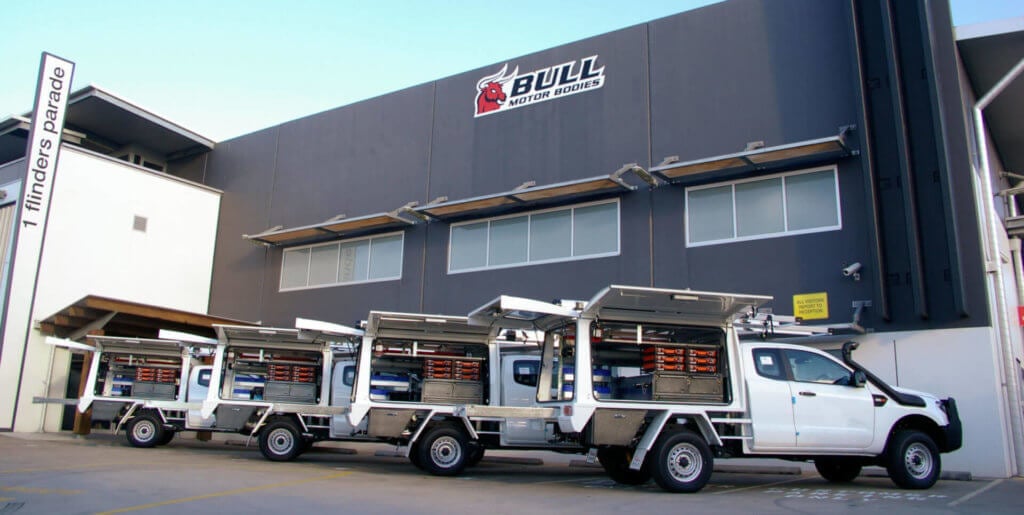 You won't find anywhere else:

We're ready with world-class design
Specialised design software, standardised manufacturing and a match-up with professional, expert designers means consistency, every time.

We're ready with incredible value
From manufacturing efficiencies to partnerships with the best suppliers, our one-stop-shop solution makes your job easier and your field team more productive.

We're ready with unbeatable quality
By using quality raw materials and manufacturing in Australia, a Bull product is proven to resist water and dust even in the toughest Australian conditions.

We're ready with superior service
From clearly defined timelines we never miss, to having one number to call for any variations, we've built our business on building long-standing partnerships.
It all began back in 2002 with Andy Park and John Porteus. These two tradesmen pooled their experience and began an engineering shop specialising in bespoke fabrication for some of WA's largest breweries and other large commercial works.
Not long after, they built the first Bull canopy – and for the next few years, perfected Bull Motor Bodies' manufacturing processes and automated production.
Fast forward to 2013, and Bull Motor Bodies grew to open its first interstate branch in Queensland, and then the national distribution centre in 2018. The distribution centre now handles all manufacturing and distribution for WA and QLD. Almost 20 years on from our humble beginning, Bull Motor Bodies is the preferred provider for some of Australia's largest fleets.
Want proof?